The Liechtenstein Princely Navy had the exceptional honor of hosting our Commander-in-Chief, His Serene Highness Prince Hans-Adam II together with his sons, Hereditary Prince Alois and Prince Max, CEO of LGT Group alongside Prince Philipp, Chairman of the Foundation Board of LGT Group on the occasion of the foundation board's visit to Hong Kong in October 2008.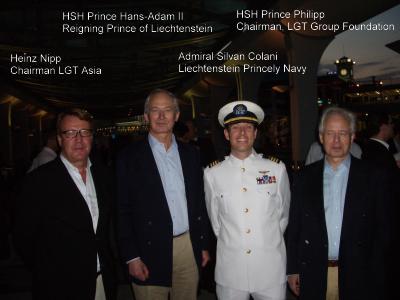 A delegation of Sailors led by Admiral Colani welcomed the Prince and his party at Pier 9 in Central from where they were whisked in style aboard an 80ft Navy Cruiser to the Top Deck in Aberdeen for a party with LGT staff and Navy crew, all dressed in their finest White Uniform – reserved for such esteemed occasions.

The Reigning Prince was particularly fond of his proud and dedicated Sailors, whom he spontaneously joined at the table for dinner. Later, in a short and unrehearsed, yet supremely refreshing and genuine speech, His Highness reminded the audience that the Liechtenstein Army was disbanded in 1868 for financial reasons and that he was very happy to re-discover his Navy some 140 years later in such good shape – and on such distant shores as Hong Kong! In reference to the current financial crisis, Prince Hans-Adam II also drew a pointed parallel between LGT, the Navy and some of its larger rivals, remarking that many larger ships had sunk in choppy waters recently while smaller and more nimble players like LGT – and the Navy – had weathered the current storm much better. He proceeded to thank the stalwarts of LGT's success in Asia – Heinz Nipp and Henri Leimer – for their commitment and dedication. To top it all off, he awarded the Navy the Princely Gold Medal of Honor for their victory at the Stanley Dragon Boat Championships this season. A very proud Admiral Colani accepted the medal on behalf of the entire Navy.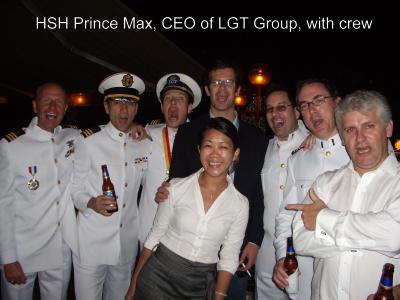 Prince Max, CEO of LGT Group, also very much enjoyed the company of his Navy and joined the crew until late into the night depleting the available Foster's fuel supply and learning the words to the Navy's very catchy team song!

Sailors of the Navy, many having met members of the Princely Family for the first time, unanimously agreed that the Princes are not only of a highly distinguished family, but are also very genuine, highly approachable and very down-to-earth people. The Navy's focus and determination for the coming season has certainly been reinvigorated as a result of this very successful visit.

Final Note: HSH Prince Hans-Adam II last visited Hong Kong in 2002 and you can read about that visit here. The Navy's progress from complete underdog to Stanley B Cup Champions is best illustrated by the respective improvements in uniform over the past six years!