The Liechtenstein Princely Navy goes into battle on a purpose-built Combat Dragonboat that is driven by an X-Class V18 Twin-Shaft Kompressor engine and powered by direct-injected high octane Singha fuel.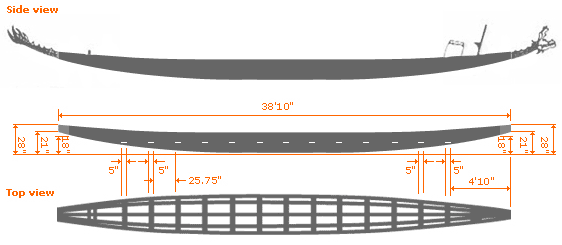 source: www.dragonboat.org.hk
Technical specifications:
Length
11.66 m (38'10")
Width
1.06 m (3'6")
Depth
43.18 cm (17")
Crew
* 18 Sailors
* 1 Drummer
* 1 Steersman

Paddle stokes/min
75 max
Cruising speed (combat) strokes/min
72
Acceleration from 0 to crusing speed
20 strokes
Acceleration from 0 to 100 km/h
up to six hours
Top speed (approx) km/h
classified
Total displacement
classified
Rated output (kW at rpm)
classified
Fuel consumption (l/hr)
9.3
CO2 emission
none
Turning cycle diameter (m)
45
Armaments
* Vertical Launch Paddle Missiles
* Surface-to-Air Insults
* Radar-guided Abuse Defense
* Rapid-response Intimidation Bombs
* Aluminium Can Torpedoes

Braking System:
Sensotronic Brake Control, is an electrohydraulic braking system designed to reduce the vessel's stopping distance by optimising the brake force distribution between the paddles. Sensor-controlled intermittent drying of the paddles makes for a faster braking response in the wet, ensuring that the vessel always comes to a standstill before hitting the beach.

Safety:
In the event of a sinking or roll-over, the vessel's occupants are protected by the high-buoyancy frame of the hull. The Navy has practiced controlled sinking manoevers in various conditions and all Sailors are familiar with the Navy's emergency sinking drill.

Comfort:
Space onboard is scarce. Designed as an 18-seater, the vessel's interior dimensions are exceptionally sparse.