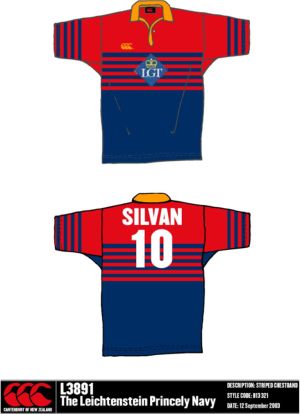 In 2003, the Admiralty of the Liechtenstein Princely Navy decided to form a Touch Rugby Team as a means to keeping its sailors in shape during the dragonboat off-season.
With the help of the Hong Kong Touch & Tag Rugby Association the Admiralty intends to create a world-class rugby squad worthy of the Princely pedigree of Liechtenstein.
The Navy finished its maiden season - the 2003 Winter Touch League - in admirable 7th position. Out of twelve games played the Navy won one and drew one. Its first victory was a crushing 3:0 defeat of the Atkins Cha Siew Crew.
In 2004, the Navy ended its second season in a significantly improved 5th position (out of eight teams). We won three games (all by forfeit, but still...) and scored a total of four tries in three games.
In the 2006/2007 season, the final showdown saw the Navy pitched against the prison guards from CSD (Correctional Services Department). It was an uneven encounter due to a low player turnout on the Navy's side and thus no substitutes for a 20 minute game. The Navy lost a respectable 3-1 to finish the season as first runner up in the Bowl Final

Having clearly been the best dressed team in the League, the Navy intends to return to the rugby pitch soon. To join the Liechtenstein Princely Rugby Team contact The Admiralty of the Liechtenstein Princely Navy.

Find out more about 'Touch & Tag' Rugby

End of memo